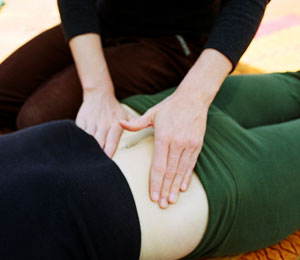 Chi Nei Tsang was developed thousands of years ago by Taoist monks striving to detoxify, strengthen, and refine the body/mind/spirit. Improper diet, lack of exercise, improper breathing, and scar tissue, all lead to reduced function and performance. Focusing on releasing these bound areas, and bringing breath and awareness into the affected area is our primary intention. Gentle pressure and strokes are used to encourage your abdomen to release and train internal organs to function more efficiently by relieving congestion and improving the flow of our circulatory, lymphatic, endocrine, digestive, reproductive and nervous systems. Our organs are dependent on their ability to move freely in the visceral cavity, to work at their ideal functioning level.
Chi Nei Tsang is an educational process using various hands-on techniques and Qigong — to help people clear negative or unhealthy energies, and various toxins, from their internal organs, tissues, and bones, and to transform and recycle these energies to promote physical, emotional, and spiritual health. Dietary suggestions and self-massage techniques are taught to encourage self-treatment between appointments.
Origins of Qigong
Qigong is an ancient Chinese tradition centered on the flow of energy (chi) in the body, mind and spirit. The four fundamental aspects of traditional Chinese Medicine include Qigong, Acupuncture, massage and herbal medicine.

Carol Reed, L.Ac.

Acupuncture

Therapeutic Massage and Bodywork

Watsu and Waterdance

Sound Therapy

Chi Nei Tsang and Qigong

Reiki